Lamb in a Pram
Download for Android
Download for iOS
Play online
Thanks for playing the Game 103 app, Lamb in a Pram. On this page you will find some gameplay tips, screenshots from the tutorial, credits, an FAQ, and a way to contact the developer with any questions that you have.
Gameplay Tips and Tricks
Not every coin is worth going for. If you are aiming for a high score, you will want to be certain that you can get out of the way of the next enemy before jumping for a coin.
The store is available from the main menu.
If items in the store seem expensive, try completing missions. Missions give 1000-3000 coins per mission.
Levels 1-5 contain easy missions providing 1000 coins each, levels 5-10 contain medium missions providing 2000 coins each, levels 11+ contain hard missions providing 3000 coins each.
Mute the game in the pause menu.
When exiting the app while in the middle of a game, it is best to pause the game manually before quitting. Otherwise, the game delays about a second from where you left off and then pauses.
If you cannot connect to Game Center when you get a high score, do not worry. It will be uploaded later.
Tap the pram to change the pram's color.
Tutorial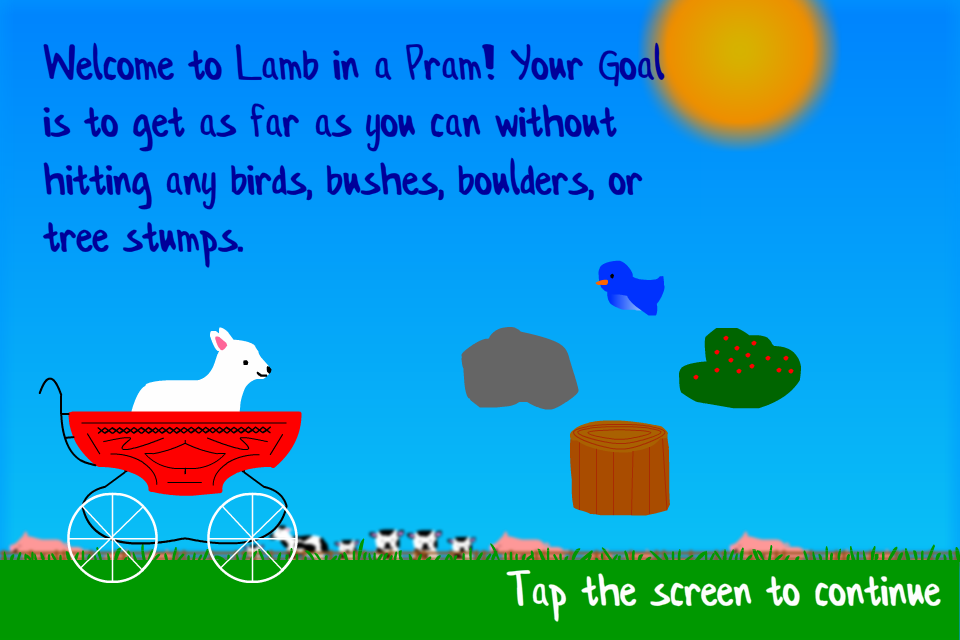 FAQ
What's the difference between the free and paid versions? The free version includes ads and only has 4 items in the store. The paid version has 16 items in the store.
What items are in the store? In the free version, the store items include a red cap, a bow tie, a rain hat, and a bandana. The paid version has all of those as well as a top hat, a necklace, a crown, a bell, a blue cap, a collar, a straw hat, a tie, a helmet, a pair of glasses, a pirate hat, and an eyepatch.
How many updates have there been? Both Lamb in a Pram and Lamb in a Pram Lite are on version 1.1.0 and have had one update each.
When was Lamb in a Pram released? July 11th, 2014. Version 1.1.0 was released on July 22nd 2014.
When was Lamb in a Pram Lite released? July 21th, 2014. Version 1.1.0 was released on July 30nd 2014.
Contact
To contact me, James Grams, the developer of Lamb in a Pram, send an email to james@game103.net. Thanks for playing!
Credits and other information
Programming, Art, and Music: James Grams
Product Testing: Rachel Grams, James Grams
Font (Conformity): Unitech Fonts